Tolire Kecil Lake in Ternate Island, North Maluku Province
---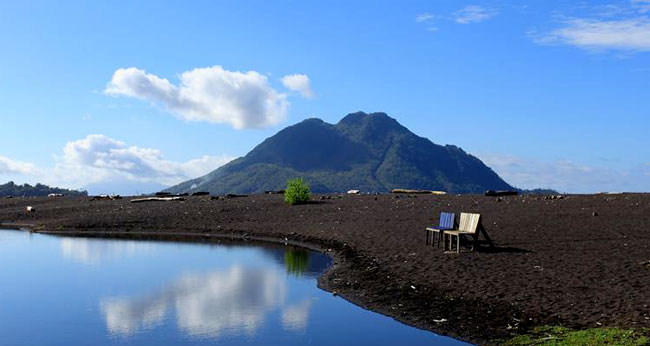 Some travelers perhaps have recognized a famous lake of Ternate Island called Ngade. However, there is another reference called Tolire. Even there is small and big Tolire Lake, which are worth to visit during a holiday. Here, we are going to talk about Tolire Kecil (small) Lake which is located in Takome Village in Indonesia. To be exact, it resides in the foot of Gamalama Mountain and has been visited by tourists due to its interesting legend and beauty. People also come to the site in order to enjoy photography and relaxation, somehow.
The Nuance
The distance between small and big Tolire Lake is only 200 meters, so tourists can get from one lake to another in no times. There is a unique thing regarding Tolire Kecil, though. It is related to the location, which is near to the sea (about 50 meters apart). Also, there is no way to avoid visiting this lake if tourists want to get to the big one. In terms of size, it is indeed smaller than its sibling but offers a more serene nuance with pristine environment.
Exploring Tolire Kecil Lake
Not all people are interested in visiting Tolire Kecil Lake due to its small size. However, it has a similar beauty to its sibling. Thus, it would be a waste if they don't drop by at this lake before visiting Tolire Besar Lake. After all, it is considered more peaceful than another so the lake becomes a perfect place for lessening and finding peace. As for the tips, it is quite recommended to visit the site in the morning or afternoon when the atmosphere is the best.
Here is the next allure of Tolire Kecil Lake. It is related to the legend, which explains why Tolire Kecil and Besar separated. According to the locals, the main cause was the mistake made by a dad who raped his daughter. This caused a big disaster back then and broke the lake in two. For further information regarding this story, tourists can take advantage of a local guide or villagers. One thing, it takes some money to hire a tour guide so everyone should have prepared the fee beforehand.
The next thing that tourists can do in Tolire Kecil Lake is indeed photography. They can hunt pictures including nature and animals. Also, the lake is suitable for selfies especially for those who want to upload memorable moments to their social media accounts. What they only need to consider is the weather, as they must avoid coming in the rainy season. The fog and rain may ruin the clarity of the photos, after all.
Nearby Attractions

Dukomadihi Cape
Tula Madaha Sakura Park
Tolire Besar Lake
How to Get There
The distance between Ternate City and Tolire Kecil Lake is 21 km, so the trip may take about 45 minutes to get there. Have no worries. It becomes faster if tourists take Batu Angus Street. Also, it is recommended to take only a good local transportation service to get to the location.
Where to Stay
Recommended hotels are located in Ternate City.