Jailolo Bay in Jailolo Sub-District, North Maluku Province
---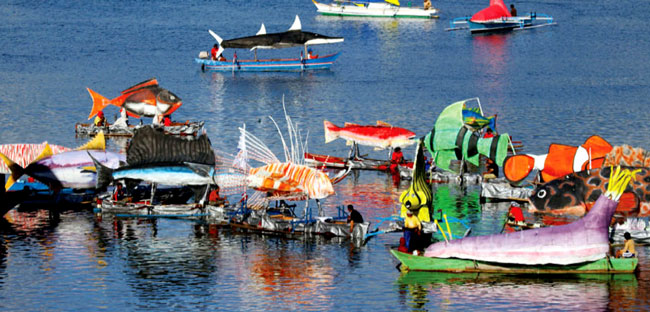 Located near to Ternate Island, Jailolo Bay becomes a good alternative to enjoy a vacation due to its amusing sea scenery and underwater beauty. As the name suggests, the bay is located in Jailolo Sub-District and it belongs to North Maluku Sub-District in Indonesia. What tourists need to do is to ride a boat from Ternate and get to Halmahera Island right away. Well, the bay has left tons of people in awe due to unspoiled nature serene nuance. That means it becomes a nice place to enjoy relaxation, sightseeing, exploration, snorkeling, and many more. How beautiful Indonesia is!
The Nuance
Jailolo Bay has a complete natural attraction, including calm sea and stunning panorama on the horizon. Don't overlook the fact that the site owns fresh air and soothing atmosphere as well. Plus, the cobalt blue color of the water may lure everyone to get in and swim it right away. From afar, tourists are able to see a majestic mountain and green lush bushes too. Here is another unique feature of the bay. It becomes the place where local boats park. Knowing this fact, tourists take advantage of such object as the background of photography without a doubt.
Exploring Jailolo Bay
Tourists can do several fun activities in Jailolo Bay. Still, the most popular one is to witness beautiful underwater scenery. That means they may enjoy snorkeling and diving in order to witness such beauty. Have no worries. The visibility is excellent and the water feels so warm, so it is quite comfortable for diving. During the activity, tourists are able to see various types of marine creatures including sea turtles, sharks, octopus, and many more. Don't overlook the presence of colorful corals and clams as well, though.
The next recommended thing to do in Jailolo Bay is none other than photography. It is because tourists can find many beautiful objects to capture including the soothing surface of the water, beautiful mountains on the horizon, local fishermen's activity, the presence of parked traditional boats, and many others. Therefore, it is quite recommended to carry a camera when visiting the bay. It doesn't have to be a high-end camera, as tourists can simply use a smartphone.
The next interesting allure is the annual event called Jailolo Festival, which is conducted everyone May or June. During the event, 100 or more divers may dive together! No wonder, the nuance becomes merrier and tourists can take advantage of the atmosphere to relieve their boredom and stresses. It even provides them with the opportunity to get close to the locals and learn their culture.
Nearby Attractions

Rappa Pelangi Cape
Pinang Cape
How to Get There
As mentioned earlier, Jailolo Beach is part of Halmahera Island in Indonesia. That means those who come from Ternate Island should find a reliable boat to cross the sea and get to Halmahera comfortably. One thing, the voyage is considered long so it takes both stamina and preparation to get there! As for the consideration, tourists should hire a local guide to get to the destination faster.
Where to Stay