Fitu Beach in South Ternate Sub-District, North Maluku Province
---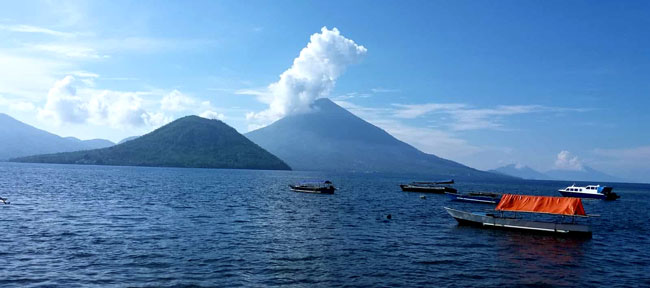 For those who live in Indonesia must have been familiar with national banknotes. In a thousand Rupiah, for instance, there is a picture of North Maluku's Maitara Mountain and Tidore Mountain located next to each other. Well, what about seeing these mountains directly during holidays in Indonesia? In this case, the best destination is none other than Ternate's Fitu Beach! It is located in Fitu Village and belongs to South Ternate Sub-District, actually. Seeing those mountains from a distance is one thing, but enjoying the nuance of the beach becomes another tourist's significant reason to visit the site.
The Nuance
Even though some people may think that Fitu Beach is not as beautiful as other Ternate's beaches, but it has a special panorama for tourists to enjoy. As mentioned before, it becomes the best place to witness the view of Tidore and Maitara Mountain on the horizon. Even the local fisherman boat can be seen clearly as well just like that of the thousand Rupiah banknote! Fitu also becomes the site where the locals work in a shipyard, so tourists can either witness or take pictures of the process.
Exploring Fitu Beach
When it comes to a vacation in Fitu Beach, tourists don't have many things to do though. It is because, for example, the beach is not suitable for swimming. As an alternative, visitors can witness the locals working in the shipyard and learn a little bit about the procedure. Moreover, taking a picture is allowed as long as they do not cause a disturbance on site. It would be more convenient if they can talk the Indonesian Language in order to communicate with the locals. As an alternative, they can hire a local guide as the interpreter.
The next popular thing to do in Fitu Beach is none other than sightseeing. Thanks to the presence of Maitara and Tidore Mountain. Tourists can see these majestic mountains clearly from the beach. In order to get the best view, though, it is better to come during a good weather in order to avoid the fog and rain. Also, it is recommended to carry a camera so tourists can take some beautiful pictures of the panorama during the visit.
Another recommended thing to do in Fitu Beach is to drop by in nearby village. The location is not far from the beach, after all. The locals are friendly and they often offer free food to tourists. Once again, it is better if tourists are able to talk the Indonesian Language so they can get information from villagers easily. If they are lucky, they can ride the boat and explore the beach more comfortably!
Nearby Attractions

How to Get There
In order to get to Fitu Beach, tourists can take Kampus Unkhair Street and use a local transportation service for a trip of about 22 minutes. It is because the distance is 8.2 km. With such short trip and easy access, they don't even need to hire a tour guide to get to the location.
Where to Stay

Ma'Rasai Villa
Ngade Guesthouse
Pantai Selatan Cottage

Latest News
Gurabunga village is one of tourism village in Tidore Island that interesting to be visited. The name of Gurabunga means flower garden. In fact, this place is being filled with flower that been planted in every corner of the people house. This village has chilling nuance and refreshing air, because it located in 800 meter above sea level. The inhabitants houses are settled in a fertile area at the slope of Kie Matubu Mountain that has 1730 meter above sea level. Kie Matubu is famous in North Maluku as Tidore…
---
Since early of the last millennium, the small islands of Ternate and Tidore in the Moluccas were the only source for cloves in the world. Indian, Arab, Chinese and Javanese merchants used to call on these islands to carry home this precious cargo which sold at exorbitant prices in Europe and the Orient. Cloves, together with nutmeg and mace from the Banda islands were used to flavor and preserve food, as medicines and even as aphrodisiacs. But after the Crusades, the trade route to the Far East was blocked for…
---
Gamalama Mountain is located in Ternate, North Maluku Province, Indonesia. Gamalama is one of the volcanoes in North Maluku Province. In addition to this mountain, there's Mount Gamkonora in West Halmahera District, Mount Ibu and Mount Dakona residing in North Halmahera District, and Mount Kiebesi in South Halmahera. Gamalama itself is located on the island of Ternate and has a height of about 1715 m ASL (above sea level). Gamalama Mountain, which is also often referred to as the peak of Ternate, is a stratovolkano, the volcano high and conical,…
---
In Tobelo, North Maluku, there is a beautiful island which totally promoted by the government; Tagalaya island. The island of Tagalaya is giving cleaning water as glass and natural view like paintings. The beauty of Eastern Indonesia is never get enough to be discuss. We all agree that Maluku have dozen islands and hundred of wonderful beaches. The beach and island in Ambon, Ternate, Halmahera and the others surely can interest thousand tourists to visit and enjoy the natural charming. An island in Tobelo will totally teasing you. Its sea…
---