Batu Angus Site in Ternate Island, North Maluku Province
---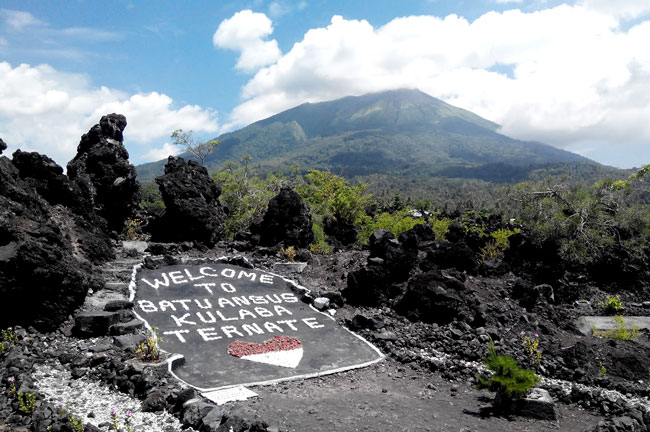 A nice vacation destination combines a beauty and historical value, without a doubt. For those coming to Ternate Island, in this case, they should not miss the chance to visit Batu Angus Site of Kulaba Village. "Batu" means stone and "Angus" means scorched, actually. As the name suggests, tourists may find black stones which are the remains of the big explosion of Gamalama Mountain during the 17th century. These stones expanse from the foot of the mountain to the nearby beach, which looks so unique! That means these were once the river of lava and had undergone coagulation due to time.
The Nuance
At a glance, Batu Angus Site looks usual but it offers a distinct nuance. No wonder, this Indonesian site becomes a unique place to conduct photography. When it comes to the shape, these look like stalagmites and come in various sizes as well. The next impressive feature is definitely the background panorama which is the grandiose Gamalama Volcano itself. No wonder, the site offers refreshing air as well, which is suitable for relaxation. What is more? Tourists don't need to pay anything to explore the site since there is no keeper or management on site.
Exploring Batu Angus Site
The first allure that motivates tourists to come to Batu Angus Site is definitely the opportunity for trekking. It is because everyone should undergo some effort to get to the site. Instead of being a tiring effort, it becomes a fun activity! Tourists can even enjoy the panorama and feel breezy wind during trekking. One thing, it is recommended to wear comfy footwear and carry bottled water in order to avoid discomfort while reaching the location.
Once arriving at the site, tourists need to pay the ticket fee before entering Batu Angus. Have no worries. The cost is quite affordable. Another good thing is that the location is quite near to the bay, so tourists can enjoy beautiful sea scenery as well. The piles of scorched stones make a cliff of the beach. Not to mention the site features a grandiose background of Gamalama Mountain! It is definitely a nice place to enjoy sightseeing and relaxation, no?
What is next? Aside from trekking and sightseeing, tourists have other reasons to visit Batu Angus Site. For example, they can enjoy photography. Many beautiful and unique objects reside in the area, after all. These include the scorched stones themselves, the view of Gamalama, and many others. Some tourists even take selfies in front of those objects! Another thing to do is to learn some history related to the site. It is said there was Japanese soldier who died while parachuting during the WWII. It was because his parachute didn't open so he died instantly from falling.
Nearby Attractions

Tabanga Beach
Tolukko Fort
Jikomalamo Beach
Sulamadaha Beach
How to Get There
For those coming from Ternate City, they can simply take a local transportation service and head to Kulaba Village right away. The distance is 11 km, so the trip may take about 27 minutes only. It can even be faster if tourists take Pemuda Street, which is also the most comfortable one. Somehow, the trip involves a short trekking to get to the site.
Where to Stay
Riswan Homestay