Ngade Hill in Ternate Island, North Maluku Province
---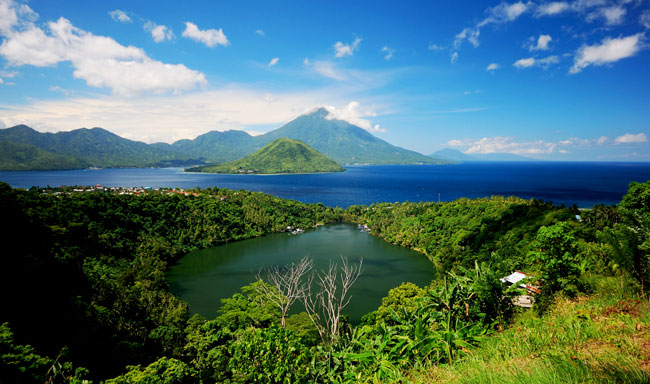 Some tourists may wonder what they may do once arriving at Ternate Island. Well, it depends on their purpose. For instance, those who look for relaxation, they can visit a wonderful place like Ngade Hill. As the name suggests, it is located in Ngade Village and belongs to South Ternate Sub-District. It even has a good popularity when it comes to the best highlands for recreation. According to the locals, in fact, this hill is able to beat Tambora Mountain when it comes to popularity! No wonder, tourists keep coming to enjoy sightseeing, photography, and relaxation, especially at night.
The Nuance
In terms of nuance, Ngade Hill features many stunning features of nature including the serene Ngade Lake and grandiose Gamalama Mountain. It is, without a doubt, the best view can be seen from the top of the hill. Even the air feels so refreshing up there and the wind is quite breezy. Still, the most recommended time to go to the hill is at night. Why is that? The scenery becomes more amusing due to sparkling lights of buildings on the horizon. Somehow, those look like the sparks of the stars!
Exploring Ngade Hill
Perhaps many people have no idea why they should visit Ngade Hill. However, they would be impressed by the panorama once they arrive at the site. It is true that tourists must spend some efforts and time in order to get to the top of the hill. Despite the tiredness, the reward is quite satisfying for sure. Plus, visitors have the chance to capture many stunning photos of nature including mountains, nearby buildings on the horizon, and many others. Even taking selfies is quite recommended there.
Well, it doesn't have to be photography. Tourists can simply reach the top of the hill and enjoy sightseeing up there. This can be done by either alone or in a group! For those who look for a peaceful trip, they can come alone and avoid disturbance from others as well. What they need to pay attention is only the weather. It is because rain and fog may cause discomfort to them during sightseeing. Also, it is recommended to come at night for the best panorama.
What is more in this Indonesian site? The next recommended thing to do in Ngade Hill is relaxation. Not only tourists can take advantage of the hill itself, but they can also explore nearby places to relax including homestays and eateries. Well, in this case, they should have prepared some money beforehand to pay those facilities.
Nearby Attractions

Ngade Lake
Kota Janji Fort
Makugawene Monument
How to Get There
In order to get to Ngade Hill, tourists only need to spend about 7 minutes from Ternate City. It is because the distance is only 2.2 km. What they need to do is to get to South Ternate City and head to Ngade Village right away. Well, for a more convenient trip, it is recommended to take Tugu Maku Gawene and Kampus Unkhair Street.
Where to Stay

Ngade Guesthouse
Tebings Homestay