Jikomalamo Beach in Ternate City, North Maluku
---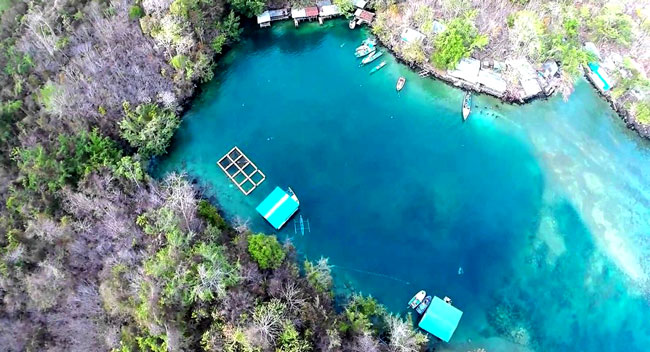 When people think of Ternate City in Indonesia, they think of beautiful and exotic beaches. For example, there is Jikomalamo Beach located in Sulamadaha Village and it resides near to the famous Sulamadaha Beach. One thing that makes it special as compared to others is the presence of beautiful underwater paradise with various fishes and corals. No wonder, tourists take advantage of the site to enjoy water sports like swimming, snorkeling, and diving. They also come to the beach to enjoy relaxation and beach walking, actually. In terms of accessibility, Jikomalamo is quite accessible. Tourists can also reach neighboring beaches easily!
The Nuance
Unlike others, Jikomalamo Beach's shore is quite short having the length of only 100 meters. Despite the size, no one would regret visiting the beach due to its pristine nuance and serene atmosphere. Even the sand looks exotic with its white color and soft texture. Thus, it is suitable for beach walking and sunbathing! As for the seawater, it looks crystal clear with light blue color. Even the corals can be seen clearly from the shore! In the back, tourists may find shady trees and piles of stones that flank the shore.
Exploring Jikomalamo Beach
Due to the exotic sand, this Indonesia beach is suitable for beach walking. That means visitors only need to walk on the shore and enjoy the nuance comfortably. Even the breezy wind makes this activity more soothing to do. For some people, this site is also perfect for sunbathing during a good weather. Thus, everyone should avoid visiting the beach during the rainy season. Have no worries. The atmosphere is peaceful as the number of visitors is lower than other beaches like Sulamadaha. This explains why the site is quite perfect for relaxation.
Not only Jikomalamo Beach is famous for its white soft-textured sand, but it is also recognized for its amazing crystal blue seawater. In fact, due to its excellent clarity, tourists are able to see various marine objects clearly from the shore. This fact also becomes the reason why most visitors would enjoy snorkeling and diving there. The clarity of the water is one thing. But the calm and safe sea current is the main reason why it attracts many beginners or those who have not much snorkeling experience!
The corals are big and the fishes are colorful. Therefore, make sure to carry an underwater camera when snorkeling to capture beautiful pictures of those creatures. Once enjoying snorkeling, they can rest on the shore accompanied by Zephyr and the soothing sound of the waves. Even though no food stands reside nearby, tourists are allowed to carry snacks and eat these on site. Well, littering is prohibited though.
Nearby Attractions

Sulamadaha Bay
Sulamadaha Beach
Nita Lake
Tobololo Beach
How to Get There
From Ternate City, a trip to Jikomalamo Beach takes about 43 minutes as the distance is 19 km. As for the best route, it is none other than Batu Agus Street. Tourists' main destination is Sulamadaha Village. Once reaching the village, it takes some time to walk to the beach. Make sure to wear comfortable footwear though.
Where to Stay
Nearby hotels are available in Ternate City