Kololi Kie Traditional Ceremony in Ternate Island, North Maluku Province
---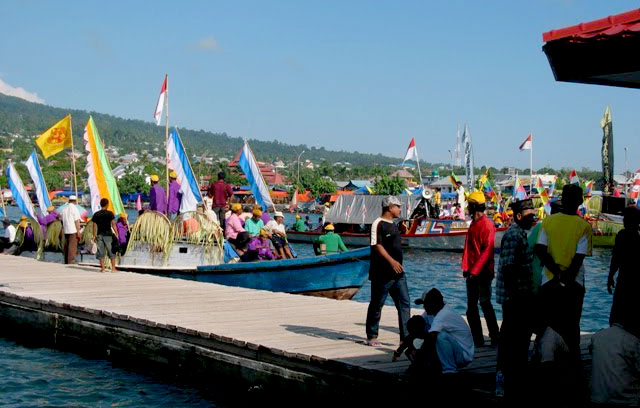 One of the reasons to explore a new region is definitely to watch some local traditions. In Ternate Island, for example, tourists can find Kololi Kie Traditional Ceremony. The locals do this ritual to welcome the solar eclipse, actually. In terms of name, "Kololi Kie" means around the mountain. This tradition has been done for generations by both Ternate and Tidore people. The main purpose is to prevent misfortune and the risk of Gamalama's eruption. Another benefit of conducting the ceremony is none other than to lure more tourists to visit Ternate Island.
The Nuance
Well, Kololi Kie is done by riding boats and carrying some offerings. The participants also wear traditional attire of North Maluku Province and beautify their boats with several ornaments including a national flag, yellow leaves, and many others. Here is the thing. The boat accommodates many people and many boats that join the event! No wonder, the nuance becomes quite merry and fun. As for tourists, they can only watch the ceremony from afar though. Have no worries. Taking pictures is allowed, so everyone should not forget to carry a camera while watching the event.
Exploring Kololi Kie
Even though Kololi Kie functions as a regular ritual to prevent misfortunes like the eruption of Gamalama Volcano, it has undergone a slight change related to the function. These days, tourists consider it a new attraction that they can enjoy during a vacation in Ternate Island. It is true they are allowed to watch the entire performance, but they must not cause a disturbance on site. Even though it looks entertaining, the ritual remains sacred and important for sure.
In the beginning, the leader of the village may start the ritual by giving special prayers. After that, they start the prime activity which is to explore Gamalama Mountain using an ornamented boat. During exploration, they may drop by in several sacred tombs that reside on the foot of the mountain as well. Not to mention they carry offerings on the boat including foods and groceries. Later, they may throw these away on the sea! During the giveaway of the offerings, these people also cast some prayers to the God in fact.
Tourists who want to witness or join Kololi Kie Ritual should pay attention to several things. First, it is related to the schedule. Before heading to Ternate City, therefore, it is important to gather information regarding when and where the ritual would be done. In this case, taking advantage of a tour agency or guide is indeed helpful.
Nearby Attractions

Gamalama Mountain
Kedaton Palace
Tolire Lake
Kalamata Beach
Tolukko Fort
How to Get There
A trip to Ternate Island takes much time especially for those coming from Jakarta City. From Soekarno-Hatta International Airport, it takes about 3 hours and 50 minutes to reach Ternate. Once arriving at Sultan Balbulah Airport, it is time to visit the nearby village for gathering the schedule of the event before watching it.
Where to Stay

Grand Dafam Hotel
Muara Hotel
Grand Majang Hotel
Archie Hotel
Batik Hotel
Corner Palace Hotel

Latest News
Gurabunga village is one of tourism village in Tidore Island that interesting to be visited. The name of Gurabunga means flower garden. In fact, this place is being filled with flower that been planted in every corner of the people house. This village has chilling nuance and refreshing air, because it located in 800 meter above sea level. The inhabitants houses are settled in a fertile area at the slope of Kie Matubu Mountain that has 1730 meter above sea level. Kie Matubu is famous in North Maluku as Tidore…
---
Since early of the last millennium, the small islands of Ternate and Tidore in the Moluccas were the only source for cloves in the world. Indian, Arab, Chinese and Javanese merchants used to call on these islands to carry home this precious cargo which sold at exorbitant prices in Europe and the Orient. Cloves, together with nutmeg and mace from the Banda islands were used to flavor and preserve food, as medicines and even as aphrodisiacs. But after the Crusades, the trade route to the Far East was blocked for…
---
Gamalama Mountain is located in Ternate, North Maluku Province, Indonesia. Gamalama is one of the volcanoes in North Maluku Province. In addition to this mountain, there's Mount Gamkonora in West Halmahera District, Mount Ibu and Mount Dakona residing in North Halmahera District, and Mount Kiebesi in South Halmahera. Gamalama itself is located on the island of Ternate and has a height of about 1715 m ASL (above sea level). Gamalama Mountain, which is also often referred to as the peak of Ternate, is a stratovolkano, the volcano high and conical,…
---
In Tobelo, North Maluku, there is a beautiful island which totally promoted by the government; Tagalaya island. The island of Tagalaya is giving cleaning water as glass and natural view like paintings. The beauty of Eastern Indonesia is never get enough to be discuss. We all agree that Maluku have dozen islands and hundred of wonderful beaches. The beach and island in Ambon, Ternate, Halmahera and the others surely can interest thousand tourists to visit and enjoy the natural charming. An island in Tobelo will totally teasing you. Its sea…
---