Taman Sakura in Ternate Island, North Maluku Province
---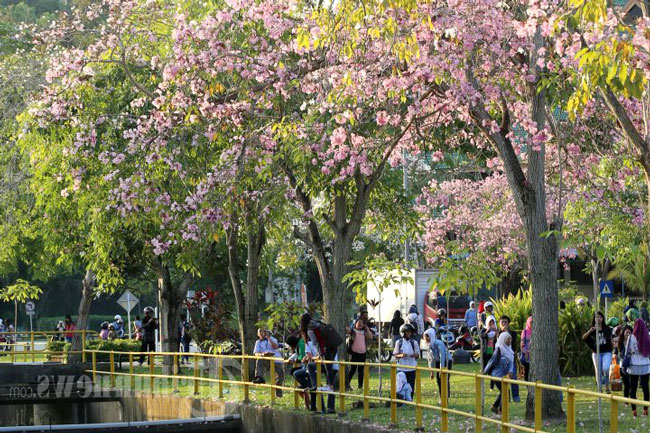 Located near to Tolire Lake, Taman Sakura has become the next popular tourist site in Ternate Island, Indonesia. To be exact, this park location is in Takome Village (West Ternate Sub-District) and it offers a nice nuance for relaxation! As the name suggests, tourists can see beautiful sakura flowers or cherry blossom. Usually, the site becomes more crowded during New Year's holidays and blooming season. Most visitors are local families with kids and they come to the park for numerous activities like photography, relaxation, and family recreation. Thanks to such beautiful nuance.
The Nuance
Instead of being under the Indonesia local government's management, the park is managed by its owner. The name is Mr. Rustam Abas, actually. He decided to open this beautiful park to accommodate tourists and gets some money from this business. Have no worries. The fee is considered cheap, so everyone can afford it without hassles. When it comes to facilities, the park indeed features some cherry blossom trees and support facilities like benches and toilets. As for the visitors, most of them are Ternate people. However, outsiders and foreigners are often seen on site as well.
Exploring Taman Sakura
Before visiting Taman Sakura of Takome Village, all tourists should gather information regarding the best time to visit this Indonesian park. Well, it is none other than during the blooming season. According to the locals, it is between February and March! Sometimes, the flowers start blooming early in January as well! There is an entrance fee in order to enter the park, though. Have no worries, the money is going to be used to provide improvements to the park and hire the locals to take care of the environment.
Due to the presence of interesting facilities like parking area, pathways, benches, and toilets, visitors would feel satisfied when exploring the park. That means relaxation is the prime activity that tourists might do on site. They simply sit on the bench and watch those beautiful flowers with their families. It even becomes more fun if they carry some snacks and eating these together with friends or families. Once again, make sure to come during the blooming season only.
Another popular activity to do in Takome Taman Sakura is photography. Tourists are allowed to explore the park and capture beautiful pictures of those flowers as well. Somehow, taking selfies becomes the most popular thing to do at this park recently. It is because most visitors are local teenagers who love to post unique photos on their social media sites. What about you?
Nearby Attractions

Tolire Besar Lake
Tolire Kecil Lake
Togafo Bridge
Takome Mosque
How to Get There
For those coming from Ternate City, they need to spend a trip for about 42 minutes as the distance is 20.2 km. Their first destination is West Ternate Sub-District in Indonesia. Next, they can simply take another local transportation service and head to Takome Village where the park resides. As for a faster trip, they must take Batu Angus Street.
Where to Stay
Recommended hotels are located in Ternate City.