Dufa-Dufa Beach in North Ternate Sub-District, North Maluku Province
---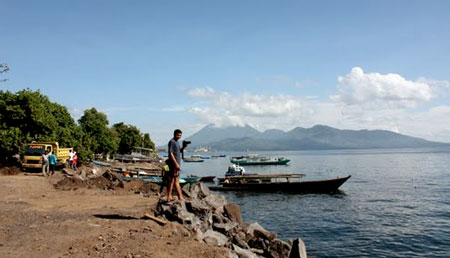 A memorable vacation always involves a nice tourist spot, doesn't it? Still, it should fit one's desire regarding the type of tourism they like. For example, nature lovers may look for new options of beaches in a particular region they are visiting. In Ternate Island, in this case, Dufa-Dufa Beach should be on the list when you are visiting Indonesia! The most recognizable thing about the beach is that it has nice sea scenery with a stunning sunset. No wonder, tourists can take advantage of the site to enjoy several activities like sightseeing, lessening, and photography. Also, the beach features an interesting atmosphere due to the presence of local fishermen's activity.
The Nuance
Once arriving at Dufa-Dufa Beach, tourists would be impressed by its romantic feel. It is because the beach is considered quiet in terms of tourism. What visitors can see is a group of fishermen working on the sea. Several boats are even seen on the shore, which is suitable for photography. Once again, this site is suitable to watch a sunset in the afternoon! The golden color of the sky and the sun reflects well on the sea, creating a shooting ambiance for tourists to enjoy. What is more? Visitors can find a local fish market near to the beach, where they can buy fresh fishes!
Exploring Dufa-Dufa Beach
Dufa-Dufa Beach is famous for its majestic sea scenery, especially in the afternoon during the sunset. This explains why most visitors are likely to visit the site during dusk or before the sun sets. So, does it mean tourists can't visit the beach at other times? Have no worries. The site also has a nice nuance either in the morning or at noon, so everyone can visit it regardless of the time.
Aside from witnessing the sunset, tourists can watch local fishermen's activity. This includes taking pictures of those people and approaching them for some information. If you are lucky enough, it is even possible to go fishing with them! Later, before going back home, it is recommended to buy some fishes at the nearby fish market. It is possible to get a cheaper price if they have a good bargaining skill! For foreigners, though, they should take advantage of a local's guide when it comes to bargaining.
Another thing that tourists can do in Dufa-Dufa Beach is to learn the history, especially related to the time when it became an official tourist attraction of the region. Before the inauguration, the locals were considering to give a distinct name to the beach which is Daulasi. Though, they decided to use the name of their village instead. Also, over time, more vendors and local stores occur near to the beach, accommodating all visitors especially tourists!
Nearby Attractions

Tolukko Fort
Anak Bangsa Theater
Gamalama Mountain
How to Get There
A trip to Dufa-Dufa Beach may take about 20 minutes, for those coming from Ternate City. It is because the distance is 6.8 km, but it becomes faster if tourists take Gamayou Street. Their first destination is North Ternate Sub-District. Next, they can simply head to Dufa-Dufa Village where the beach resides.
Where to Stay
Riswan Homestay