Ternate Wonder Island in South Ternate Sub-District, North Maluku Province
---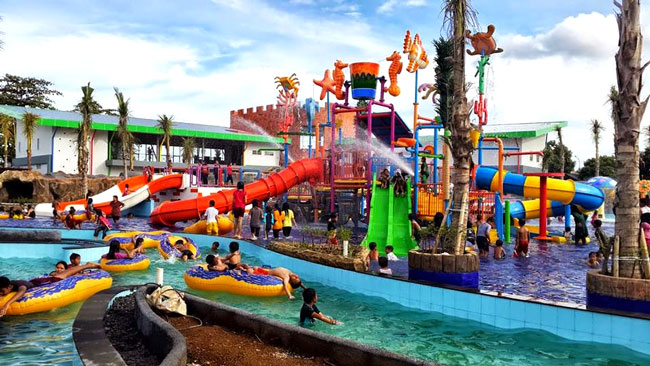 Just because Ternate Island is the home of historical forts and beautiful beaches, doesn't mean it has no other nice places to enjoy a family recreation. Here is the example. Tourists may find Ternate Wonder Island in South Ternate Sub-District, which is a recommended water boom! To be exact, the location is in Kayu Merah Village and it is considered the most popular site for families with kids! The Indonesian locals keep coming with their children in order to give a happy experience to the kids, especially during weekends. Despite the fact, outsiders and foreigners are also seen there!
The Nuance
Here is the good news. Ternate Wonder Island is located quite near to Kalumata Fort, so tourists can explore these two attractive places at once during a vacation in Ternate City. Many types of water rides and pools are available for everyone to enjoy as well! According to the locals, the construction finished in 2013 and it has become the best place for a family recreation since then. In terms of size and nuance, the water boom is indeed quite satisfying. Tourists would feel satisfied with its reliable facilities as well, for sure.
Exploring Ternate Wonder Island
It is true the main purpose to visit Ternate Wonder Land is to swim or play water rides. Fortunately, the site provides satisfying facilities for tourists to use. The most popular one perhaps is the currents pool. As the name suggests, people can either swim or ride a buoy in the pool that features comfy waves. Have no worries. The currents are considered safe for everyone, including kids. Still, parents should supervise their children when using the facility.
For a safer option, there is the kiddy pool featuring water house and other fun water rides. As people may expect, this facility is safer due to the shallowness of the pool. So, parents can let their kids playing freely there. Located near to it, there is the landing pool which is the best choice for relaxation. Well, for those who look for a more challenging experience, they can ride the water slides including race and spiral open body slide! Have no worries. These slides are safe, so both adults and kids can get the fun without any worries.
What is more? Parents can take advantage of gazebos while supervising their kids, actually. There are many of them, so tourists do not need to queue in order to use the gazebo. Another impressive thing regarding Ternate Wonder Land is that it features many facilities including a food court, a small mosque, toilets, etc. What a great place to spend a holiday with families! Don't you agree?
Nearby Attractions

Kalamata Fort
Makugawene Monument
Kota Janji Fort
How to Get There
From Ternate City, it takes only 5 minutes to reach Ternate Wonder Island! No wonder, the distance is only 1.5 km, so everyone can get to the site without hassles. For the best trip experience, though, it is recommended to take Jeruk Street.
Where to Stay

G Hotel
Ayu Lestari
Bukit Pelangi Hotel

Latest News
Gurabunga village is one of tourism village in Tidore Island that interesting to be visited. The name of Gurabunga means flower garden. In fact, this place is being filled with flower that been planted in every corner of the people house. This village has chilling nuance and refreshing air, because it located in 800 meter above sea level. The inhabitants houses are settled in a fertile area at the slope of Kie Matubu Mountain that has 1730 meter above sea level. Kie Matubu is famous in North Maluku as Tidore…
---
Since early of the last millennium, the small islands of Ternate and Tidore in the Moluccas were the only source for cloves in the world. Indian, Arab, Chinese and Javanese merchants used to call on these islands to carry home this precious cargo which sold at exorbitant prices in Europe and the Orient. Cloves, together with nutmeg and mace from the Banda islands were used to flavor and preserve food, as medicines and even as aphrodisiacs. But after the Crusades, the trade route to the Far East was blocked for…
---
Gamalama Mountain is located in Ternate, North Maluku Province, Indonesia. Gamalama is one of the volcanoes in North Maluku Province. In addition to this mountain, there's Mount Gamkonora in West Halmahera District, Mount Ibu and Mount Dakona residing in North Halmahera District, and Mount Kiebesi in South Halmahera. Gamalama itself is located on the island of Ternate and has a height of about 1715 m ASL (above sea level). Gamalama Mountain, which is also often referred to as the peak of Ternate, is a stratovolkano, the volcano high and conical,…
---
In Tobelo, North Maluku, there is a beautiful island which totally promoted by the government; Tagalaya island. The island of Tagalaya is giving cleaning water as glass and natural view like paintings. The beauty of Eastern Indonesia is never get enough to be discuss. We all agree that Maluku have dozen islands and hundred of wonderful beaches. The beach and island in Ambon, Ternate, Halmahera and the others surely can interest thousand tourists to visit and enjoy the natural charming. An island in Tobelo will totally teasing you. Its sea…
---