Dorpedu Beach in Ternate City, North Maluku Province
---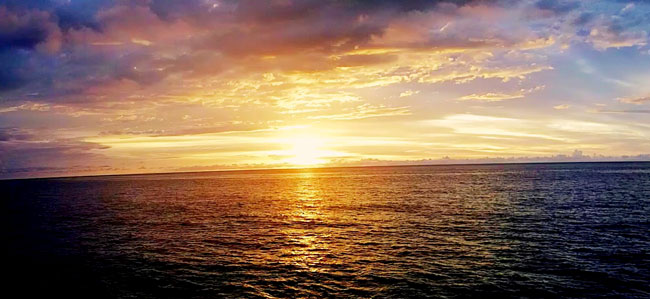 Some passionate travelers indeed have heard about violent waves of South beaches of Java Island. Well, a similar characteristic can be found in Ternate's Beach called Dorpedu! Despite the big and dangerous waves, this Indonesian beach remains popular among tourists especially those who look for a distinct vacation destination. Here is a surprising fact. The locals often take advantage of the beach to enjoy swimming even though they are aware of the danger of those waves. As for tourists, they can take advantage of the comforting nuance of the beach for relaxation and photography instead.
The Nuance
As mentioned before, the most noticeable feature of Dorpedu Beach is none other than its big waves. Just by a simple look, the beach looks both deep and fierce without a doubt. What is more? The next noticeable feature of this beach is the exotic black sand. The texture is considered soft, so it is suitable for beach walking and beach sports. The next feature is the coral reefs located on the side of the shore with green trees growing on it. From afar, tourists can see the splashing water that hits those reefs! It is, somehow, a nice background to take pictures!
Exploring Dorpedu Beach
Due to the strong waves of Dorpedu Beach, tourists do not have many things to do on site. Have no worries. It can be as simple as watching and listening to those majestic waves from the shore. For those who love photography, they can take the chance to capture beautiful pictures of the sea as well. In this case, make sure to choose the right spot to do so. For example, they can take pictures near to the coral reefs where the waves cause a big splash on site.
It is true that swimming is possible, but it is not recommended for beginners. For first-timers, it is better to avoid getting near to the water. Even though watching the locals enjoying water sports is alluring, it is better to be safe than sorry, no? As an alternative, tourists can enjoy some fun activities on sand including beach volley and sand war. This makes beach walking is quite recommended for them.
Another thing that tourists must do in Dorpedu Beach, before going home, is to enjoy local foods. Thanks to the strategic location. The beach resides near to a village so tourists can find local food vendors easily. The most popular foods that they can find are fried rice and roasted chicken. One thing, many wild dogs wander near to the village so everyone should be more attentive to their surroundings.
Nearby Attractions

Bobane Ici Beach
Akerica Beach
Gamalama Mountain
How to Get There
For those coming from Ternate City, they only need to take Batu Angus Street and head to Dorpedu Beach right away. This trip may take approximately 43 minutes as the distance is 18.5 km. This can be done faster if they use the best transportation service, as well.
Where to Stay
Nearby hotels are available in Ternate City.