Falajawa Beach in Center Ternate Sub-District, North Maluku Province
---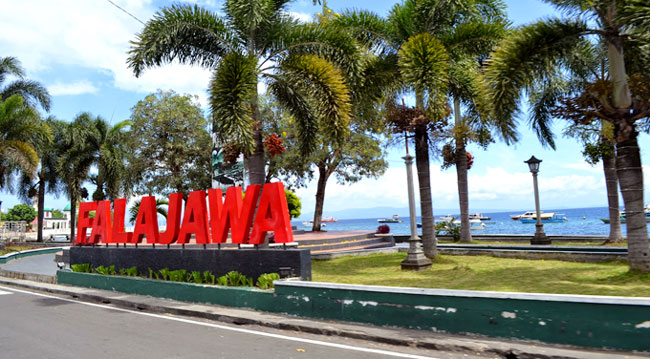 During a vacation in Ternate Island, tourists may find many beautiful beaches for them to explore. One of them resides in Center Ternate Sub-District and the name is Falajawa Beach! According to Indonesian locals, this one is quite popular among teenagers or those who live in the downtown. No wonder, it becomes crowded in the afternoon as these people come to relieve stresses due to their work. They come to the beach to relax, enjoy the beautiful dusk panorama, and chat with friends or families. As for tourists, this beach can be a nice choice for lessening before continuing their tour.
The Nuance
The good thing is that Falajawa Beach is located on the roadside so it is quite noticeable and reachable. Even a red big signage has been installed near to the shore as a notice. Several trees also grow near to shore featuring beautiful parks and sidewalk. The next impressive thing is that the management provides nice facilities to tourists including buoys for swimming and parking area. As for the nuance, the sea looks calm featuring several boats passing by in the midst of it. Some of these boats are also parked near to the shore, creating a nice background for photography.
Exploring Falajawa Beach
According to the locals, the last name of the beach is Swering. No one knows why the local government decided to change the name, though. Have no worries. Despite the change of the name, the beach doesn't lose its beauty. Instead, it is able to lure more visitors over time. Thanks to the easy accessibility. Tourists only need to reach Pahlawan Street from Ternate City. It is because the beach is located on the roadside.
The most common reason to visit Falajawa Beach is to relax and witness the panorama of the sea. Usually, these people come to the site in the afternoon when the nuance is the most comfortable. Not only they want to watch the sea scenery, but they also take advantage of the atmosphere to do sports. The landscape arrangement of the beach is quite impressive, after all. The management has done a good job to take care of the environment, as well!
The next reason why many people come to Falajawa Beach is the presence of local food vendors who sell delicious snacks to visitors. These include Jaha rice, Lalampo, and much more! Once eating and resting at the beach, tourists may continue visiting other interesting attractions located near to it especially the floating mosque of Al Munawar.
Nearby Attractions

Nukila Park
Bastiong Port
Oranje Fort
Al Munawar Mosque
How to Get There
The main allure of Falajawa Beach is its strategic location, which resides near to the downtown so it becomes quite accessible for citizens. From Ternate City, it only takes about 12 minutes to get to the site as the distance is 3.7 km. Tourists can take Kapitan Pattimura Street if they want to get there faster, actually.
Where to Stay

Neraca Golden Hotel
Saqavia Hotel
Archie Hotel
Ternate City Hotel
Menara Hotel