Sultan Babullah's Tomb in Ternate Island, North Maluku Province
---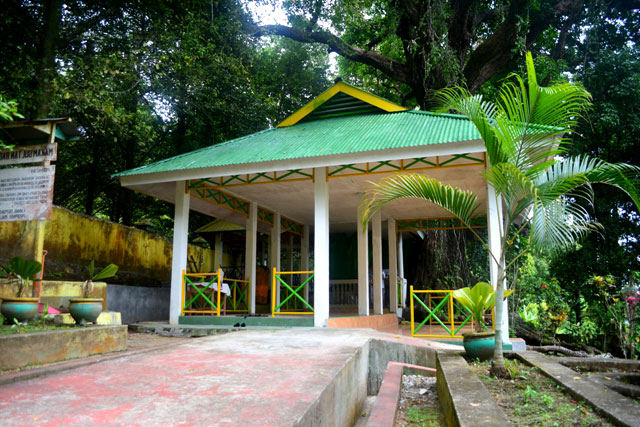 Only some passionate travelers are aware of an Indonesian sacred site it Ternate Island called Sultan Babullah Tomb. Due to its historical value and sacredness, the site even becomes a new tourist attraction these days. People come to the tomb either to learn the history of the deceased person or to conduct pilgrimage at special occasions. Another allure of the tomb is that it is part of Gamalama Mountain. That means tourists need to conduct trekking in order to get to the site, which is a good thing for nature lovers and adventurer.
The Nuance
In terms of nuance, the tomb is surrounded by big trees without a doubt. It has a clean and neat environment due to a good management which is done by the keeper, though. Plus, it features a small park with several plants on it (creating a good atmosphere to the site). As mentioned before, the tomb is located on Gamalama Mountain so it features a refreshing air and stunning panorama. It takes about 1 km of trekking to get to the location, in fact. Well, the most noticeable plants that surround the tomb are indeed cloves and nutmegs!
Exploring Sultan Babullah's Tomb
It is true that each region has an important public figure regardless of his or her role. In Ternate City, for example, Sultan Babullah is definitely the most popular one, especially during the colonial era. He was a brave and smart leader who was able to get rid of Portuguese from Ternate Island. No wonder, his name was used in many public places including the airport of the region. Well, this also explains why his tomb becomes a significant tourist site for tourists to visit!
Aside from learning the history of Sultan Babullah, tourists have other reasons why they want to visit the tomb. As mentioned before, it is related to trekking. They take advantage of the route to enjoy hiking and sightseeing while reaching the location. The fact is that the tomb resides in Gamalama Mountain, featuring various types of natural attractions including tropical trees, spices plants, hills, and much more. That means tourists can use the opportunity to conduct photography as well!
Once arriving at Sultan Babullah's Tomb, tourists may see a neat environment and a building located under a big Momo tree. The scent of pandanus and incense is quite strong when tourists get near to the tomb, as well. Here is the thing. Everyone is allowed to conduct pilgrimage there. However, they are not allowed to cause too much noise and litter on site. The tomb is considered sacred and important for the locals, after all. As for the tip, it is recommended to hire a local guide in order to get thorough information and history regarding Sultan Babbulah.
Nearby Attractions

Gamalama Mountain
Clove Plantation
How to Get There
For those coming from Ternate City, they can take any local transportation service and head to Sultan Babullah's Tomb right away. This trip may take around 14 minutes, as the distance is 4.9 km actually. For a faster and more comfortable trip, it is recommended to take Jati Lurus Street!
Where to Stay
Makassar Indah Hotel