Bastiong Port in South Ternate Sub-District, North Maluku Province
---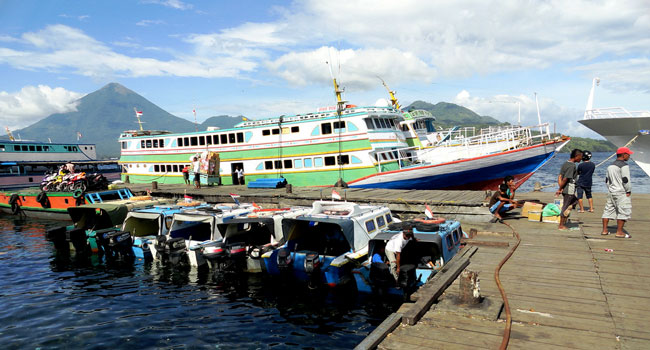 The most common purpose to enjoy a vacation is to relieve stresses, no? However, some people decide to visit uncommon places like a port to satisfy their curiosity. For example, there is an Indonesia interesting port in Ternate Island called Bastiong. Aside from being a regular transportation site to get a boat service, this port has been visited by tourists due to its unique atmosphere in fact. No wonder, it becomes a nice alternative to spend a recreation during weekends. This port is located in Bastiong Talangame Village and belongs to South Ternate Sub-District, actually.
The Nuance
In terms of nuance, Bastiong Port looks neat and attractive. It is because the management works hard to keep it worth visiting and functional. The pier is wide enough to accommodate visitors and various types of boats. These include speedboats and passenger boats, actually. At regular days, the port are crowded by the locals who want to get to nearby islands especially Tidore. During holidays, though, it becomes more crowded due to the presence of tourists and travelers. It even becomes jam-packed during big days like Lebaran!
Exploring Bastiong Port
Here is the question. What can tourists do in Bastiong Port? Well, it is as simple as watching the port activity including docking and others. Somehow, this view is quite interesting for tourists and often become a background for photography as well. During hectic days, moreover, some locals take advantage of the small ferry to load a motorcycle! It is because they want to ride this bike once arriving at the destination later. In a nutshell, tourists are allowed to swarm the port and collect beautiful pictures using a camera as long as they don't disturb others.
What is next? Tourists are allowed to get around Bastiong Port and approach officers in order to get more information regarding that place. As for foreigners, they need to come with a local guide for a more efficient communication though. In order to get a more interesting experience, tourists can rent a speedboat and get around the sea for several minutes. One thing, they should ensure the boat is vacant. Also, it is important to carry enough money to pay the boat service.
So, what is more? Another recommended thing to do in Bastiong Port is to get to nearby islands using the available boat. It takes some money and plan, though. As long as tourists are prepared, they can enjoy further adventure by visiting interesting places located in neighboring islands. After all, Bastiong Port becomes one of the most significant accesses to get there. For a more comfortable voyage, in this case, everyone should only visit the port during a good weather. That's it.
Nearby Attractions

Bastiong Market
Perikanan Nusantara Port
Kalamata Fort
How to Get There
From Ternate City, a trip to Bastiong Port only takes about 16 minutes as the distance is 4.8 km. What tourists need to do is to visit South Ternate Sub-District first through Inpres Bastiong Street. Next, they can simply reach Bastiong Talangame Village where the port resides.
Where to Stay

G Hotel
Ayu Lestari Hotel