Tobololo Beach in Ternate City, North Maluku Province
---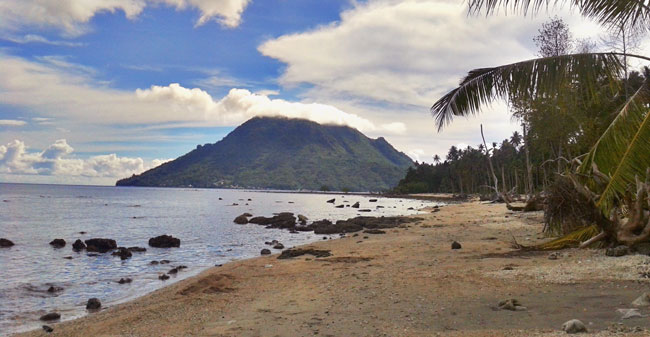 Natural attractions in Ternate City, tourists should not miss the chance to visit Tobololo Beach! This beauty Indonesia is located in Togafo Village and it has been visited by lots of tourists due to its unique landscape and panorama. Another unique characteristic of the beach is that tourists can explore the site and find a natural hot spring located nearby. Well, some people may love this beach due to its strategic location though. That means everyone can reach the location without spending too much time and effort.
The Nuance
The first noticeable feature of Tobololo Beach is its long shoreline featuring moderate waves. The color of the sand is light brown and it has a soft texture as well. On the horizon, a big mountain can be seen clearly, which becomes a nice object for photography. The next amusing feature is the presence of coral reefs with the length of 35 meters! During the low tide, tourists can even see numerous coral fishes and catch them by hands. These fishes include Tato, Goruwo, Uhi, and Kakap! What about the high tide? At that time, tourists can enjoy surfing instead.
Exploring Tobololo Beach
What can tourists do in Tobololo Beach of Indonesia? That's the question. According to the locals, most tourists come to the site in order to enjoy surfing. Even though the waves are moderate, those are good enough to enjoy surfing especially for who do not have enough experience. It is even said the beach is visited by 100-150 people daily! No wonder, the number of visitors increases during weekends and holidays which makes the atmosphere merrier! One thing, tourists need to carry their own surfing board if they want to surf there.
The next popular activity to do in Tobololo Beach is exploration. As mentioned earlier, the beach features several spots with natural hot springs. The source comes from Gamalama Mountain, actually. Tourists only need to pay attention to the route, as it is considered complicated. In order to avoid hassles, it is recommended to take advantage of a local guide's help. It is said those hot springs scatter in different locations like beneath the sand, behind the coral reef, and in a well. The unique thing is that they are located near to the beach!
The next common thing to do in Tobololo Beach is fishing. Once catching some fishes, tourists are even allowed to cook and eat them directly on the beach. Thus, it is better to visit the beach either with friends or families. The only disappointment is that the site doesn't feature reliable facilities like toilets and eateries. That's all.
Nearby Attractions

Nita Lake
Sulamadaha Beach
Tabanga Beach
Jikomalamo Beach
Tolire Lake
How to Get There
A distance between Ternate City and Tobololo Beach is only 13.5 km, so the trip may take about 32 minutes to get to the site. As for the tip, it is better to take Batu Angus Street due to the fact that it is the fastest. There is no need to hire a local guide as the beach is quite reachable and located on a strategic site.
Where to Stay
Nearby hotels are available in Ternate City.