Kedaton Sultanate in Ternate Island, North Maluku Province
---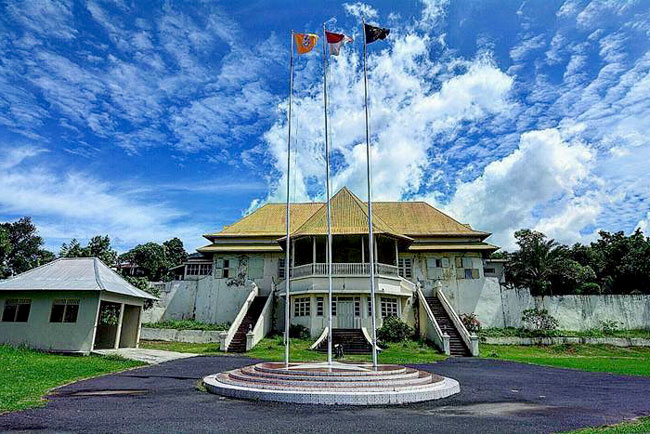 Many people have recognized the allure of Ternate Island due to its historical value, without a doubt. It is because tourists can find lots of forts scattered in several villages and take advantage of them for a historical tour. However, aside from fort, there is also the famous Kedaton Sultanate! As people may expect, this building has been used as the home of Sultanate's families until now. Not to mention it becomes another tourist attraction in Ternate City and has attracted both locals and outsiders over time. This Indonesia's historical and attractive building is located in Soa Sio Village and belongs to North Ternate Sub-District, actually.
The Nuance
In terms of nuance, Kedaton Sultanate looks both neat and beautiful. The best feature is perhaps the background of grandiose Gamalama Mountain, which is suitable for photography. It is true that the building looks old but it has a good condition due to a nice management is done by the keepers. When it comes to structure, the building applies a rectangle size and it has the size of 1500 meters per squire. Also, it resides in an area of 1.5 hectares! Do not forget that the site also features a park and other facilities especially a parking area.
Exploring Kedaton Sultanate
The most common reason for tourists to visit Kedaton Sultanate is to learn its history. According to the locals, this building has been there since 1813! It was built by one of Ternate's Sultanate named Muhammad Ali, for the information. It is true this palace belongs to Sultan's families, but it is also managed by the local government since 1981. The purpose is to provide a better management and avoid unwanted deterioration. Also, the palace without a doubt becomes a tourist attraction in Ternate City despite the limit of accessibility.
The next allure of Kedaton Sultanate is definitely its architecture. According to reliable historians, the construction involved a Chinese architect back then. This explains why tourists may see several oriental ornaments on some parts of the building, including the stairs. Aside from the architecture, the palace has other unique attractions though. For instance, visitors may meet "Abdi Dalem" or the palace servants. These people have taken care of the palace for generations and they are famous for their loyalty!
What is more? As mentioned before, Kedaton Sultanate has become another interesting tourist site in Indonesia. In fact, the local government has built a public museum located beside the palace. Any historical objects have been removed to this museum in order to retain them in a proper manner. Here is the good news. Visitors are allowed to take pictures there.
Nearby Attractions

Oranje Fort
Thian Hou Kiong Pagoda
Nukila Park
Falajawa Beach
How to Get There
In order to get to Kedaton Sultanate, tourists only need to get to North Ternate Sub-District and head to Soa Sio Village afterward. The trip takes about 15 minutes as the distance is 4.1 km. This even becomes faster if they take Yos Sudarso Street. Also, it is recommended to find a good transportation service to get to the location.
Where to Stay

Aini Homestay
Riswan Homestay
Matoa Hotel