Bobane Ici Beach in Ternate City, North Maluku
---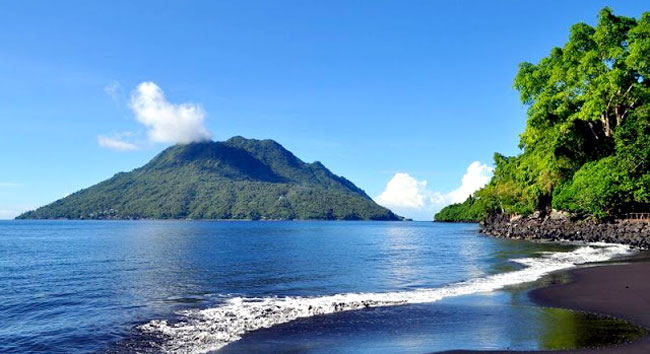 One of the most beautiful beaches in Indonesia is called Bobane Ici, exactly in Ternate City. It is located in Dorpedu Village and belongs to Aftador Sub-District. This one is different than others due to its secluded location, in a nutshell. That means most visitors are likely to enjoy relaxation here. The serenity of nature also lures those who like photography, somehow. Visitors also have the chance to ride a local fisherman's boat if they are able to negotiate with the owner! No wonder, Bobane Ici becomes a good vacation destination for those visiting Ternate.
The Nuance
Once arriving at the beach, tourists may notice the most significant feature of the site which is the presence of gravel and rocks that scatter in some parts of the shore. Moreover, these objects come in various sizes and shapes! Another noticeable feature is a group of local fishermen's boats parked on the shore. If lucky enough, tourists are allowed to ride it and explore the seawater comfortably. What is more? On the horizon, beautiful views of mountains may leave everyone in awe. Do not forget that the shore is clean and neat without any trash!
Exploring Bobane Ici Beach
The presence of Bobane Ici Beach increases Ternate City's popularity among nature lovers, without a doubt. It is true that each beach of this region has a distinct characteristic. What about this one? Bobane Ici is known for its small stones that scatter on the shore. Thus, visitors should wear footwear when enjoying beach walking. Instead of being a hassle, those stones become a nice object for photography! Plus, the beach features unspoiled environment which is perfect to support such activity.
The breezy wind welcomes everyone and it helps tourists to relax or eradicate stresses. Even watching the stones are quite soothing! According to tour guides, these stones were formed gradually due to scours of waves. Not to mention the nuance becomes more relaxing due to natural songs including the sound of waves, waving twigs, and bird songs. This ambiance may amuse everyone, especially in the morning with its freshest air! Well, swimming is allowed but the sea is not recommended for beginners.
The next thing to do in Bobane Ici Beach is to enjoy the afternoon panorama. Somehow, the beach becomes more romantic at that time. As for the tip, tourists should consider buying traditional snacks and drinks of Ternate (which are Guraka and fried bananas) and carry these to the beach. This way, they can enjoy them while watching such amusing panorama! Make sure to take care of the trash later, though.
Nearby Attractions

Akerica Beach
Gamalama Mountain
Tolire Lake
How to Get There
If tourists come from Ternate City, they only need to spend a trip for about 30 minutes as the distance is 14.1 km. Many local transportation services are available, so make sure to choose the best one for a more comfortable trip. As for the best route to take, it is definitely Batu Angus Street.
Where to Stay
Nearby hotels are available in Ternate City