Visiting Ternate City in North Maluku Province, Maluku Islands
---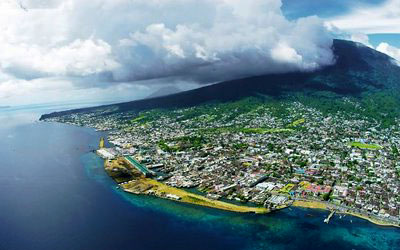 Being the capital of North Maluku Province in Indonesia, Ternate City is indeed worth a visit. Due to a new regulation, though, it is replaced with Sofifi City. Despite the fact, tourists keep coming to visit beautiful beaches and some historical sites that scatter on the region. The next impressive fact is that the city resides at the foot of a grandiose mountain called Gamalama. That means Ternate is suitable for trekking and natural exploration, too. Not to mention it has several delicious dishes and interesting traditional dances and performances for tourists to enjoy.
The Nuance
Ternate City is considered a small archipelago having the total area of 547.736 km per square. According to the information, it has 8 islands (5 of them are inhabited). In terms of topography, it consists of hills and mountains with various heights between 0 – 700 meters above the sea level. Here is the thing. The region has a low rainfall, so it is definitely suitable for spending holidays. When it comes to accessibility, outsiders can get to Ternate either by boat or airplane. Various local transportation services are also available for tourists to use to explore the city!
Exploring Ternate City
When it comes to tourism, Ternate City has lots of allures for tourists to enjoy. First, it is related to history. Visitors may find several reminiscences of the colonialism era especially the old forts! The invaders took advantage of the island as the base for spice trading during the 16th to 18th century, after all. These forts were built during the Portuguese and Dutch reign, for the information. Today, tourists are allowed to visit and explore those historical buildings to their heart's content.
Aside from the historical value, Ternate City is famous for its beautiful nature. No wonder, tourists can find lots of stunning beaches, lakes, capes, and many others. Not to mention all of them are worth to visit regardless of the purposes of activities. Even there is a unique vacation destination called the Clove Plantation or "Kebun Cengkeh". At this site, tourists can enjoy the nuance which is similar to that of Korea! Also, make sure to carry a camera to take good pictures there!
The next reason to visit Ternate City is the presence of a famous Indonesia's mountain called Gamalama. That means tourists can enjoy trekking and natural exploration comfortably there! The trekking route is easy and the panorama is breathtaking! What a combo, no? On top of that, the locals are quite friendly and they have an interesting culture and delicious traditional foods as well. Make sure to explore these attractions, therefore.
Famous Attractions

Gamalama Mountain
Kedaton Palace
Tolire Lake
Kalamata Beach
Tolukko Fort
How to Get There
an airplane from Soekarno – Hatta International Airport and head to Sultan Balbullah Airport in Ternate City. The flight may take approximately 3 hours and 50 minutes if they take a non-stop flight. Once arriving at Ternate, they can ride local transportation service and reach any desirable vacation destination.
Where to Stay

Grand Dafam Hotel
Muara Hotel
Grand Majang Hotel
Archie Hotel
Batik Hotel
Corner Palace Hotel

Latest News
Gurabunga village is one of tourism village in Tidore Island that interesting to be visited. The name of Gurabunga means flower garden. In fact, this place is being filled with flower that been planted in every corner of the people house. This village has chilling nuance and refreshing air, because it located in 800 meter above sea level. The inhabitants houses are settled in a fertile area at the slope of Kie Matubu Mountain that has 1730 meter above sea level. Kie Matubu is famous in North Maluku as Tidore…
---
Since early of the last millennium, the small islands of Ternate and Tidore in the Moluccas were the only source for cloves in the world. Indian, Arab, Chinese and Javanese merchants used to call on these islands to carry home this precious cargo which sold at exorbitant prices in Europe and the Orient. Cloves, together with nutmeg and mace from the Banda islands were used to flavor and preserve food, as medicines and even as aphrodisiacs. But after the Crusades, the trade route to the Far East was blocked for…
---
Gamalama Mountain is located in Ternate, North Maluku Province, Indonesia. Gamalama is one of the volcanoes in North Maluku Province. In addition to this mountain, there's Mount Gamkonora in West Halmahera District, Mount Ibu and Mount Dakona residing in North Halmahera District, and Mount Kiebesi in South Halmahera. Gamalama itself is located on the island of Ternate and has a height of about 1715 m ASL (above sea level). Gamalama Mountain, which is also often referred to as the peak of Ternate, is a stratovolkano, the volcano high and conical,…
---
In Tobelo, North Maluku, there is a beautiful island which totally promoted by the government; Tagalaya island. The island of Tagalaya is giving cleaning water as glass and natural view like paintings. The beauty of Eastern Indonesia is never get enough to be discuss. We all agree that Maluku have dozen islands and hundred of wonderful beaches. The beach and island in Ambon, Ternate, Halmahera and the others surely can interest thousand tourists to visit and enjoy the natural charming. An island in Tobelo will totally teasing you. Its sea…
---